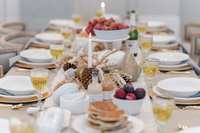 Food, Laughter, Love & a bit of Organization
FOOD
At our home we love holiday traditions, time together as a family, and of course delicious food! Every Thanksgiving my husband bakes a mouth-watering Pumpkin Streusel for an early morning brunch. He came up with this recipe one year and it was such a hit with our family that it became an annual tradition. We can't imagine Thanksgiving without it!
LAUGHTER
The delicious food puts us all in a good mood and ready for relaxed family time together. The holiday feels like a precious gift in the hustle of daily life with time to talk, connect, laugh and enjoy each other. These moments remind me that despite the daily chaos, there is so much to be thankful for. 
LOVE
Each year our family sits around the table enjoying the flavor-filled food while discussing everything from our holiday plans to the upcoming Gardner flag football game and who will win this year's bragging rights. During our animated conversations, we take a moment to express our gratitude, giving insight into the things that are most important. The day wouldn't be complete without watching Home Alone and quoting our favorite lines. Despite our best efforts, my youngest children will get inevitably get restless and start throwing footballs and doing karate kicks while my older teenagers yell at them to sit down and watch the movie. I can't help but love this phase of life that is a mixture of beautiful, perfect moments and complete chaos.  I love the people I have the privilege to be surrounded by in my personal and professional life. They love me despite my constant need for order, hug me when the stress gets to be too much and make me laugh at the times I need it most.
A BIT OF ORGANIZATION
The food, meal times and fun activities of the holidays are often associated with stress and chaos. The time seems to fly by without allowing us to soak in the peace and joy that should be filling our hearts. I have learned I can't get rid of all the mess but I can help make the time with family feel a little more under control and relaxed. The best way to get the most out of the holidays is with some advance preparation. I make a list at the start of the holidays of everything I need to accomplish and break it down into bite sized pieces. I work to get as much done early in the season as I can and allow some extra time for the unexpected. With a little bit of organization, we can cherish this time being with those we love. 
No matter where you come from, everyone deserves a family that loves them. Help us find a home for children who have never had one. Donate to America's Kids Belong, an organization dedicated to finding permanent homes for children in foster care. 
Life is most impactful when improving the lives of others.