Welcome to our organized home where we surround ourselves with people who inspire us to be better and stronger, who bring kindness and creativity giving us an opportunity to support them too. Everything is better when we do it together!
Product/Post Exchange Program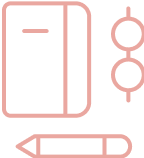 Access to Professional Organizational Team
Personal Offer Code
Exclusive Offers
"Every time I open a clean, organized drawer, I breathe deeply and feel the calm begin to settle in."
– Sabrina
We believe organization is unique just like you. Help us get to know you! Fill out our application to be considered for our influencer program.