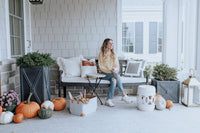 Getting Organized for the Holidays
The leaves are bursting with color, the air has turned cool and Christmas decorations are popping up in stores. The holidays are right around the corner! This is the time anxiety can set in about preparing holiday meals, office work parties, school and dance performances, teacher gifts, and finding time in all the chaos to actually sit back and enjoy the holidays. 
It is so easy to get caught up in the flurry of activity without taking time for the things that really matter. This prompted me to create a system to get organized for the holidays. Taking time to prepare pays off in the best possible way. The season transforms from stressful into joyful with time for Hallmark Christmas movies, delicious food and games with friends and family, time to serve, maybe a bit of chaos and a few quiet moments to just be present during this magical time of year. 
Here is my system of organization for the holidays!
Step 1: Make a List of Holiday Tasks & Events
This is your guide of everything you need to do during the holiday season. Remember to include the little things like teachers gifts and Christmas cards as well as the big events like Christmas parties. Do not add unnecessary things to your list. If you can do without it, your list becomes a lot more manageable. Just like in organization, get rid of anything you don't need. Simplify!
Step 2: Create a Schedule
Now that you have made your list of tasks, assign a date to each of them. The earlier in the season you can get them done, the better. If you can do it fast, do it now. There is nothing wrong with Christmas shopping in July! Imagine being prepared for the holidays by Thanksgiving! In December, you can enjoy those holiday parties and time with family and friends.
Step 3: Make a Gifting Plan
A written list or a simple spreadsheet works great. List out family members, friends, co-workers, teachers and anyone else you plan on gifting to this holiday. For each person, make a note of the gift you plan to give them. Have you ever ordered something and then forgotten about it only to find it next April during spring cleaning?! This will help you keep track of exactly what you have and what is missing. Holiday gift guides are incredibly helpful in choosing the perfect gift.
Step 4: Set Aside Time for Joy & the Unexpected
Every holiday there are moments that we don't want to miss. Make sure to set aside time for the things you enjoy most. My favorite is reading Christmas stories to my younger children at bedtime. We bring out all our holiday books, get into cozy pajamas and take joy in the time together. Throughout this season, there will be unexpected opportunities to help a family in need or take a ride on the Polar Express. By keeping open spaces on your calendar, you will be able to take advantage of every special moment.
JOIN US FOR THE SALT SEASON OF GIVING
Throughout the holiday season, Salt by Sabrina will be introducing our brand-new Salt Season of Giving. Here is a little breakdown of how it works:
YOU WIN - Every Monday we will announce a new giveaway of some of our favorite Salt products. Follow us @saltbysabrina for details. Every Thursday we will announce the winners!
YOU GIVE - Each winner will receive a prize for themselves and an additional prize to gift to someone else! Give a gift to the friend who is going through a tough time, the mama who is overwhelmed, the crossing guard you see every day or anyone you think could use a sweet surprise.
WE GIVE - Once the giveaway has ended, we have a special offer for our Salt community. A portion of the purchases made during that period will be donated to Kids Play International, an organization dedicated to promoting gender equality through athletics.
With a little bit of planning and organization the holidays can transform into a season of relaxation, joy and giving!  Follow us on Instagram @saltbysabrina for more tips and tricks for the holidays! 
Wishing you peace, love, organization, and happiness,