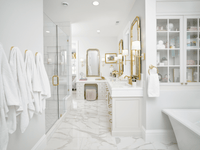 Clever Bathroom Storage Ideas
Your home is an extension of you, so when your space doesn't feel like you, it's difficult to enjoy being in it. The bathroom is no exception! Whether you're in a larger master bath designed for two, a small half-bath with limited space, or a bathroom usually occupied by kids and their endless messes, every bathroom in your home can be a welcoming, relaxing and organized room. 
How do you do that for a bathroom? Intentional, easy-to-maintain storage and organization solutions. We've gathered the best bathroom storage ideas to help create clean, orderly, and personalized bathrooms.
Why Is Bathroom Storage Necessary?
Keeping your bathroom clean and organized is critical for a room frequented by the entire family—not to mention guests. Not only is it important to keep a bathroom clean and tidy for our health, but an organized bathroom is easier to maintain and helps us care for that space like any other part of the home. Storage solutions can elevate every room, especially ones specifically designed to make bathroom maintenance easy.
Bathroom storage is the key ingredient to a clean bathroom, especially when you're working with a smaller space. The best way to keep things tidy long-term is to give everything a home. That's where storage comes in.
Small bathrooms don't always come with a lot of natural storage because the space is already so limited. When there aren't any built-in storage options, you have to get a little creative. But small spaces are an amazing opportunity for customized storage, which is when organization gets especially fun. Even if you're working with a small space, own your bathroom like you do any other room with these bathroom storage ideas.
Top Tips For Maximizing Small Storage Spaces
Small storage space ideas can go a long way in your bathroom. Check out some of them below.
Install Hooks
Hooks are a great way to better use wall space and other types of vertical space. You can add hooks for towels or robes along an unused wall, or even on the back of your door. Maybe you want to hang up your blow dryer on the side of your sink: a hook is probably the best solution for that. Hooks are some of the most simple installments that can house all sorts of items.
Shelves
Shelves are a classic way to store items, and for good reason: there's so much versatility with shelving. You can opt for more open storage or use bins and baskets on your shelves. There are even stackable storage options that help you capitalize on vertical space. Especially if you can install 2 or 3 shelves, the lower storage can be for items you regularly use, want your kids to have access to, or that a guest may need. Top storage can be for things like cleaning supplies or personal items that you don't frequently use but prefer to be out of sight and out of mind.
In-Shower Storage
Showers can vary in size and built-in storage, so sometimes people need creative storage solutions. You can use hanging caddies that are suspended from the showerhead or stick to the walls with suctions cups. These are great for keeping wash bath loofahs or other bathing items like soaps and hair products. You can also find clever corner storage, like corner shelving, that gives your more vertical space.
Drawer Organizers
Especially with a limited number of drawers, it's important to make the most out of every corner. Custom drawer organizers are the ultimate tools for giving each and every item a place in the bathroom. They especially help categorize things, which makes maintaining and cleaning a bathroom much more convenient.
Over-the-Toilet Storage
You can use small, stylish bins on top of the toilet, or even find clever ways to use the wall space above the toilet. There are small basket shelves that can fit in small, slim spaces for items like hygiene products or cleaning supplies.
Baskets
Baskets are a great blend of open and closed storage, where the basket itself can be out in the open and even decorative, but can also conceal all sorts of bathroom items. Storage baskets are especially great for bigger, bulkier storage, like rolls of towels or hand towels, dirty clothes, toilet paper, and other similar items.
Carts and Rolling Storage
You can find all sorts of rolling storage options online that are easy to adjust. Look for carts with open storage shelving or even drawers on wheels for closed storage. These items usually fit in slimmer places, so that awkward space between your shower and the toilet could go towards a ton of storage.
Cabinet Storage
Under The Bathroom Sink Storage Ideas
The under-the-sink cabinet seems like it should be low-hanging fruit when it comes to storage, but the pipes and plumbing can get in the way of convenient and effective space. Luckily, there are customizable under-the-sink caddies that can be designed to fit in your bathroom. The best ones are stackable so that you can better use both horizontal and vertical space.
Cabinet doors
The inside of the cabinet door(s) under your sink often go overlooked, too, but you can install unique storage solutions for those, too. Some people use hooks to hang items. Others have found a garbage bag container dispenser that they can stick on that inner door. Some people attach a magnetic board to the inside of their medicine cabinet so they can store more miscellaneous items with ease. There are tons of creative ways to use that door space!
5 Steps To Get Started

It can be a little surprising how much one small bathroom can cause a lot of stress, so if you feel overwhelmed by your bathroom storage situation, you're not alone! The best way to approach organization is to break everything down into steps, even for a little bathroom. By being intentional with your space, you'll spend your time and money more wisely and create lasting storage solutions that bring you peace. 

Clean. You need to know what kind of space you're working with, and to do that, you can start by thoroughly cleaning and sanitizing your bathroom. 
Declutter. The most useful mindset for organizing any room is giving everything in that room a home. It can be hard to dedicate areas to every little thing, especially with limited space, but you may find items that really don't get used. Don't feel like you have to be a strict minimalist to be organized, but start with a clean slate and get rid of things you don't use often.
Inventory for things and for space. After digging through the bathroom storage ideas above, start measuring the space in your bathroom so you can decide what you need. Do you have a lot of empty wall space? You might need some shelves or hooks to take full advantage of that space. Do you have a lot of small, miscellaneous items? A drawer organizer is probably best to sort those items.
Establish a system. Think about what you use regularly versus infrequently, what you need more immediate access to, what you want kids to have access to (or what should stay out of reach), etc. When you store things based on habits and accessibility, it's easier to group items and prioritize where they should go. Toilet paper should be easy to access for everyone, including guests. But you probably want more personal items, like hygiene products, to be private and tucked away.
Tailor the bathroom for you and your family. If you organize and store items based on your specific needs and desires, it will be much easier to stick with the system you created. No two bathrooms are the same, not even in your home, so try to give each room the care and personalized storage it needs.
Customizing Your Bathroom
One of the best feelings is when the things in our lives fall into place. You get that job you've been working towards, or your holiday dinner plans work out so that everyone in your family can be there. In those moments, we experience both joy and peace. Nothing is perfect, but giving everything a home is the best way for your home organization to "fall into place."
How do you give everything a home in your bathroom? Use customizable storage solutions. Whether you want to take advantage of the one drawer you have or better utilize the under-the-sink storage, you can make the most out of all your space through intentional customization.
Salt by Sabrina provides made-to-fit products specifically measured for your space. Check out our bathroom storage solutions to start customizing (and loving) your bathroom!