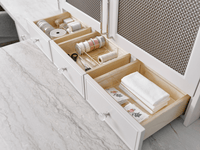 5 Storage Ideas for Small Spaces
Your home is a sanctuary from the chaos of life. However, when your home doesn't feel like a space that fits your needs, it can instead become a place of frustration. Despite living in a small space, you can make a room feel bigger and more comfortable through better organization. If you're working with small spaces that don't accommodate your household, your home may feel cramped—but there are storage solutions that use space more effectively with more appealing results. By utilizing all available space, you will find that you are creating more storage in your existing home.
Simple is powerful—small areas or minimalist spaces can be just as efficient as big storage spaces with the right organization. That's what's beautiful about organization: it's designed to simplify your life and help you own your space, big or small.
If organization is overwhelming at first, it's okay, you are not alone! You can start with simple solutions, room by room, space by space. There is room for everything and everyone: it's just a matter of being efficient and getting the most out of every space.
Small Space Storage Ideas
1. Be intentional with every space
You might be surprised at the amount of space that's going unused, even in the smallest areas. You'll grow to love and appreciate different types of storage spaces when you're purposeful with the organization. Using clear storage containers and stackable storage containers can help you use your vertical spaces and be able to easily access everything inside.
Some rooms or spaces will have different storage opportunities than others. Your kitchen may need more stackable storage inside the cabinets, but your home office organization could utilize more wall space for storage baskets. Look at all unused surfaces, forgotten corners, opportunities to stack storage, and available wall space. Consider just what you could take better advantage of. 
2. Use more vertical storage opportunities
Doors are an entire surface of unused space! You can stow things away by hanging things on the inside, or you can display other items on the outside of your door. Cabinet doors have some storage potential, too, which makes for easy access with certain items. Bathroom cabinet doors can store small hand-held appliances, garbage bags, cleaning items, or plenty of other objects. Stackable caddies and storage inserts also help you use shelves, drawers, and cabinets from top to bottom. Using vertical or stackable storage solutions within an already designated storage space, like a cabinet or drawer, is a great way to get more out of small spaces.
3. Every corner matters
Even the most awkward corners in your home can often be used for some kind of storage. Especially if you can install a simple shelf, that's one more space to keep your things. You can buy or make DIY shelves designed to fit snugly in corners, or even hang items in the corner using hooks. Many people opt for an end table, which you can use for storage. Snug organization inserts also help you use every corner of a drawer, shelf, cabinet, etc. 
Now, keep in mind: this doesn't mean you should fill every corner of your house—that will make your house feel smaller and more cramped. However, well-designed, thoughtfully placed storage in the corner won't overwhelm a room. Less is almost always more. Use your spaces efficiently and get rid of everything you don't need. 
4. Display your storage openly
Sometimes we only think of storage as designated closed cabinets, drawers, or closets. But you don't need a closet to store everything. Using baskets on unused surfaces or beneath furniture with open space is an easy way to use more space. Hanging items on walls is another fashionable way to store your things. Open shelving paired with an attractive container can be your best storage friend! With the right storage containers and hooks, your storage can also act as decor and make a room feel put together.
5. Customize every unique space
When every item has a home, your home has more to offer. This might seem a little counterintuitive when you have limited space, but you don't always need more space: you need better organization. When everything has a place, it's easier to clean, maintain, and enjoy your home. 
For example, if a drawer feels too small, square, long, or has any other limitation, you can use custom organizers for your drawer's specific dimensions and use every inch of that drawer. Then you can always find what you need and no storage space goes to waste.
Getting started with storage for small spaces
Now that you have some inspiration to work with, it's a little easier to get your small spaces organized. Here are a couple of steps to get started.
Inventory. Identify the space you are using and the space you aren't. Take stock of what you have, what doesn't have a home, and small space opportunities.
Let go. Get rid of or donate things that you don't use. 
Measure. Know your space more intimately—what kind of dimensions are you really working with? Remember, every inch can count towards better organization.
Research solutions. Find the best fits for your small spaces that help you love and use your space. The more personalized the solutions, the better!
Salt by Sabrina solutions are made for you 
Whether you live in a small space, only have small spaces to work with, or just want to better utilize a small corner in your home, it's totally possible to find simple, tasteful, and practical solutions.
The best part of getting organized and using your space more intentionally is the satisfaction and peace that comes with it. Instead of dealing with the emotional toll of clutter, utilizing these storage ideas for small spaces will give you more confidence and contentment in your home. Salt customizations, baskets, and other organization containers are designed to give you that peace and happiness.
Salt drawer organizers are sustainably sourced and made with crystal-clear acrylic material, designed to give your drawers a clean, accessible, and efficient storage solution. Best of all, they're completely customizable to your space, so you get exactly what you're needing according to your unique drawers. Customized solutions are solutions that last, so your dedicated space will be orderly and effective for years to come.
You're meant to love your space, and Salt by Sabrina is here to help you create that space. You can find more storage solutions for your small spaces and other parts of your home here.