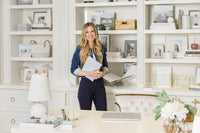 Simplifying and Decluttering Your Life: An Interview with Sabrina Gardner by Authority Magazine
Sabrina Gardner, founder and CEO of Salt by Sabrina, was recently featured in an interview series on Medium.com for Authority Magazine titled "How Simplifying & Decluttering Your Life Can Make You Happier." The series, led by author Drew Gerber, CEO of Wasabi Publicity, explores the insights, stories, and personal anecdotes of coaches, mental health experts, and authors on the topic of simplifying and decluttering to find happiness.

In the interview, Sabrina shares her personal journey, the inspiration behind Salt by Sabrina, and her expert insights on how simplifying and decluttering can lead to greater happiness. She also provides her five key pillars for simplifying and decluttering your life, including Simple Systems Breed Success, Organization is as Unique as You Are, Experience Power Through Organization, Build Your Team, and Own Your Time.

As Gerber states, "we live in a time of great excess. We have access to fast fashion, fast food, and fast everything. But studies show that all of our 'stuff' is not making us any happier. How can we simplify and focus on what's important? How can we let go of all the clutter and excess and find true happiness?"
Sabrina's interview offers valuable insights and practical steps to help readers on their own journey towards simplifying and decluttering to find greater happiness.
You can read more about Sabrina's story and her expert advice in the interview, "Sabrina Gardner Of Salt by Sabrina On How Simplifying & Decluttering Your Life Can Make You Happier."