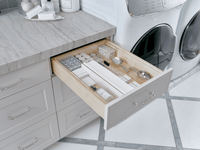 8 Laundry Room Organization Ideas to Simplify Your Life
If you manage the laundry in your home, it's likely you've said something similar to this: "the laundry is just never done." Even if you don't always express it, taking care of laundry is a big task that can be overwhelming and exhausting, especially if you're dealing with all or most of the laundry from your family members. Sorting clothes, pairing socks, knowing what can and can't be put in the dryer, and organizing everything truly is a never ending process.
We've all been there! It can feel like a losing battle at times, but there are solutions to making your laundry life easier. Such an ever-present (and often difficult) job shouldn't be something you must simply accept as a source of chaos in your life. While there's no magic spell that will manage your laundry for you, you deserve both the space and the right tools to keep you and your laundry room organized, effective, and serene. Organization done well is powerful because it puts you back in control of life instead of your responsibilities controlling you. These laundry room organization ideas are intended to empower you to feel confident and peaceful in your home.
How do you organize a laundry room?
The big question: how do you organize your laundry room, especially in an effective way that you like? The answer may vary a little from person to person, but the short answer is, simplify and stick to your system. When you build your laundry room and tasks according to your system or process, then you can use your space more efficiently. Of course, that's just the main idea—now let's dive into more specific solutions. Below you'll find 8 laundry room ideas that are intended to help you create a space that serves you and brings your joy.
8 Laundry room organization ideas
1. Start clean and fresh
It's always a good idea to clean a room really well before adding something else to the mix. Starting fresh means not only cleaning your space but getting rid of items or tools that are no longer helping you stay organized. Some of our things we only keep out of habit, or sometimes the fear of losing something. Try to be honest with yourself and consider what you actually use and get rid of what you don't. It will be even easier to organize your laundry room when you're working with a clean slate.
2. What are the areas of your laundry room that have the most potential?
Now that everything is clean and you've narrowed it down to the essentials, you can evaluate the actual physical space you have to work with. Do you have cabinets? What about any open space or shelving you could utilize? Are there some awkward corners that you want to use, but aren't quite sure how? What's your laundry machine layout, vertical or horizontal? Is there more vertical space you can use, like wall or door space? Once you know what space you really have, you can figure out how you want to use that space.
3. What's the flow of your laundry process?
This is an important step: what's your ideal laundry flow like? Ask yourself what your best laundry days look like. What habits, good and bad, have you made with laundry? Is there a point in your laundry system where you tend to hit a snag? What can your space do to help you simplify and optimize your laundry system? Maybe clothes get clogged at the sorting station, or there's too much laundry that needs to hang dry. Dig into what works and what doesn't and write down your ideal laundry system.
4. Designate areas
You have a clean space, you know your laundry room more intimately, and you have a goal set in mind on how laundry should be taken care of. Now, dedicate spaces according to your system. Does the laundry sit on the couch for too long waiting to be folded? Create a folding station in your laundry room. Do you need a better place to hang clothes to dry? Install a drying rack or rod. Whatever points in the process that slow you down or discourage you, create a specific place for them in your laundry room.
5. Give everything a home
Similarly, it's wise to design a space for every tool, item, and solution. Use custom drawer inserts to organize what might be a junk drawer so that you can instead know exactly where your safety pins are. Use storage bins and boxes to clean and organize an area, and then abide by the sections you've created—labeling is a good way to stick to your system. When everything has a place, maintaining and working in your laundry room will be much easier.
6. Get the most out of each and every space
Remember those awkward spaces we talked about earlier? Is there a narrow space next to your dryer? You can get narrow shelves on wheels to easily store and access those items. Do you have tall cabinets? Use stackable storage to utilize that vertical space. What about space on top of your cabinets? Consider using baskets in those open spaces for easy, attractive storage.
7. Make your laundry room pleasant to be in
At the end of the day, we only like to stay in areas that make us feel safe, clean, and like our best selves. Organization can be about self-expression, too, so creating a space you love is an act of self-care. Use a laundry detergent that smells nice to make your laundry room more inviting. Use attractive bins and baskets for storage to tie the room together and practice uniformity. You can even consider design elements: using a relaxing, warm color palette can brighten a whole room, especially if you're working with a small laundry room. 
8. Stick to your system, but be open to reevaluating
Now that you've built and organized your room around your system, you can be intentional about the rest of your laundry practices as well. When we're doing our best to be consistent, we tend to have more time and ease during chores. Plus, being consistent also gives us a baseline for our new habits so that we can reevaluate what is and isn't working in the future. Our lives are always evolving, so you may find something else works better or that you need to tweak how you've categorized something—that's totally normal and completely expected. Being consistent is simply how you determine what you should keep doing and what you should adjust.
Salt by Sabrina storage solutions are simple and powerful
Ownership is a big part of organization, and Salt by Sabrina products are designed to not only simplify your life but create joy and peace for yourself. Each storage bin is meant to be aesthetically appealing and functional, so you don't need to choose between something you love and something you need: have both! 
Salt by Sabrina drawer organizers are customized to each drawer so that you use every bit of valuable room. Everything has a home and you don't waste any space. Made from clear acrylic material, you have easy access and visibility to all your laundry-related items.
Salt By Sabrina is ready to help you find and create the perfect laundry room for you. Shop our laundry solutions and simplify your life.