How often do we use our drawers each day?
Life is messy. Our drawers don't have to be! Shop our line of custom organizers, expandable organizers and drawer dividers to transform your spaces.
Crystal-clear acrylic dividers designed to hold in place with our unique, patented design. Drawer organization never looked so good!
transform your drawers in five minutes and three measurements
The Salt line of expandable organizers features the same premium acrylic as our custom organizers with a patented design that expands to create a perfect fit using every square inch of storage space in your drawer.
about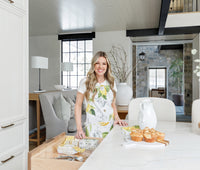 Every product at Salt by Sabrina is designed to simplify your life, beautify your spaces, and empower you with confidence.
Sabrina Gardner, founder and CEO of Salt by Sabrina, was recently featured in an interview series on Medium.com for Authority Magazine titled "How Simplifying & Decluttering...
Are you tired of struggling to keep your home organized? Meet Sabrina Gardner, a working mom who has spent 16 years in the photography industry, balancing motherhood and her ca...
The art of gifting comes from making it personal.   GIFTING The holidays are in full swing with Christmas music playing on the radio and festive decorations in every store. A ...